Fitbit One
Sizing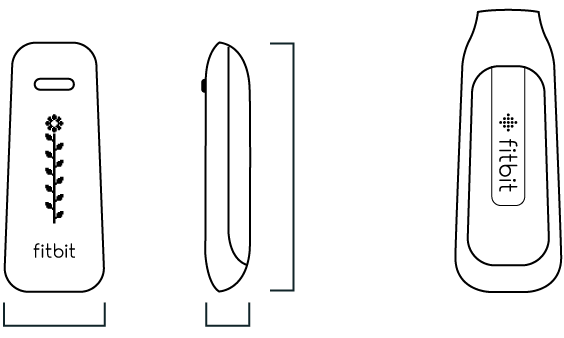 Sensors and Components
3-axis accelerometer
Altimeter
Vibration motor
Display
OLED display
Push the button to cycle through daily stats
Water Resistance
One is sweat, rain and splash proof. However, the device is not swim proof. With any clip-based wearable device, it's best for your skin if the clip stays dry and clean.
Care
You can clip One to a belt, pocket or bra. Always use the silicone holder when clipping it to a bra or waistband as the plastic One tracker is not meant to be worn in direct contact with the skin. Make sure the One display faces outward when clipped to your bra. Learn more
Materials
The One tracker is made of thermoplastic. The clip is made of silicone and metal.
Battery and Power
We recommend charging your One weekly to ensure you are always tracking.
Battery life: 10-14 days
Battery type: Lithium-polymer
Charge time: One to two hours
Radio transceiver: Bluetooth 4.0
Environmental Requirements
Operating temperature: -20° to 45° C
Maximum operating altitude: 9,144 m
Memory
Tracks 7 days of detailed motion data – minute by minute.
Tracks daily totals for past 23 days
Syncing
One syncs automatically and wirelessly to tablets, computers and 200+ leading iOS, Android and Windows smartphones using Bluetooth 4.0 wireless technology.
Syncing range: 6 m
Syncing to computers requires Internet connection and USB port
Syncing to mobile devices requires Bluetooth and Internet connection
Syncs with Windows Vista and later, Mac OS X 10.6 and up, iPhone 4S and later, iPad 3 gen. and later, and leading Android and Windows devices
*Colour Option : black , burgundy
Brand
Fitbit